No More Exhibition
My first show in California ❤️
A Non-Where
Spray and acrylic on canvas 30" x 24", 2019.
My mother divorced my black father when I was the age of 1 year, and married another man that became my new father. In this way I was raised as a white girl from a white father, a white mother and a white sister. In this family I was privated of have a contact with my father cultures from Africa having myself colonized with the europeans behaviors.
No More colonization for the black bodies.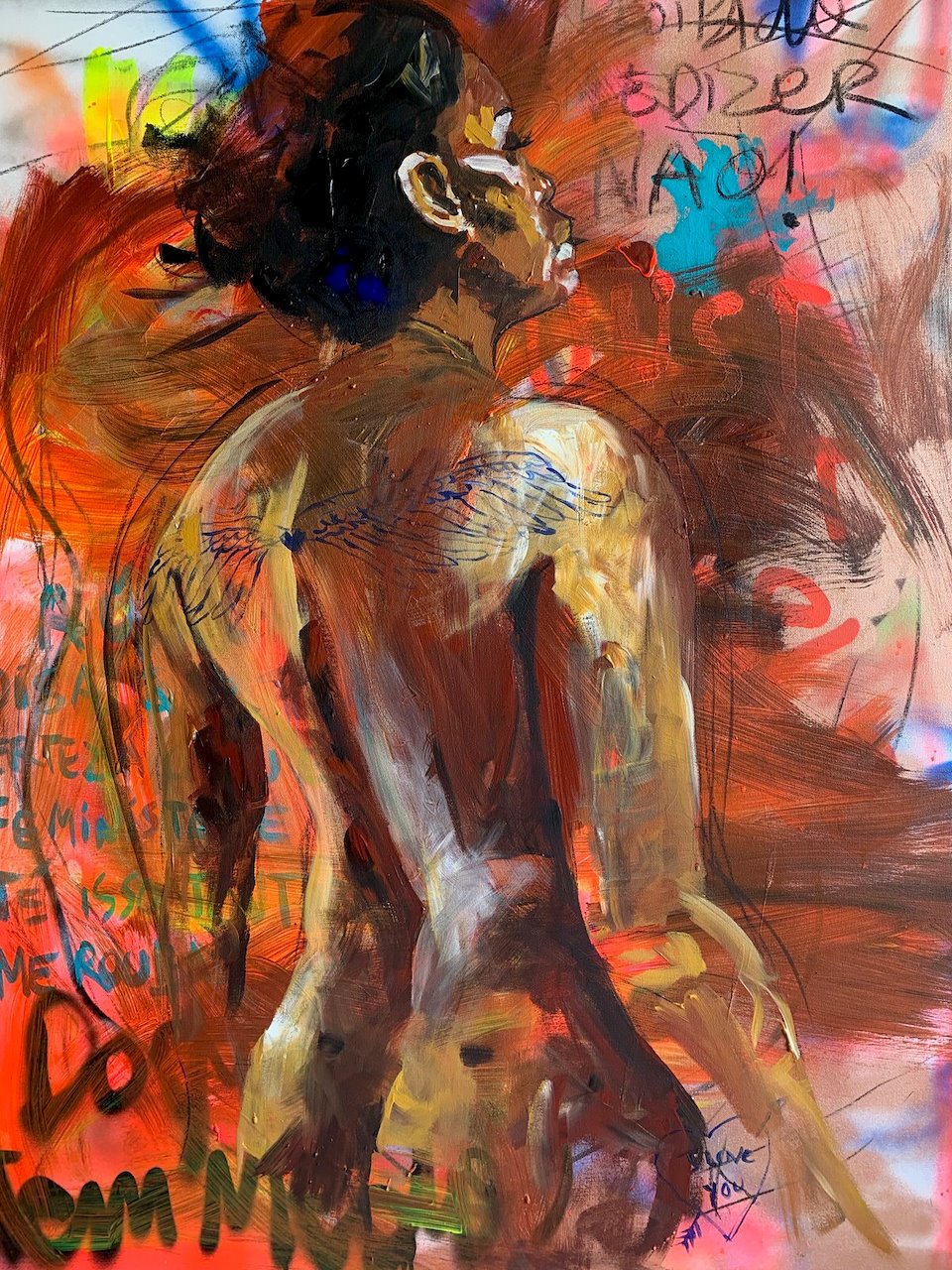 The only thing I'm sure I am that I'm a feminist.
And even this they tried to stole me.
Spray and acrylic on canvas 36" X 48", 2019.
Sometimes people want to tell me what I have to do to be a feminist, but to be a feminist is exactly to do whatever I want. Sometimes I talk with myself asking where is this bible of feminist where people discovery how is to be a feminist.
For No More people telling me what I have to do.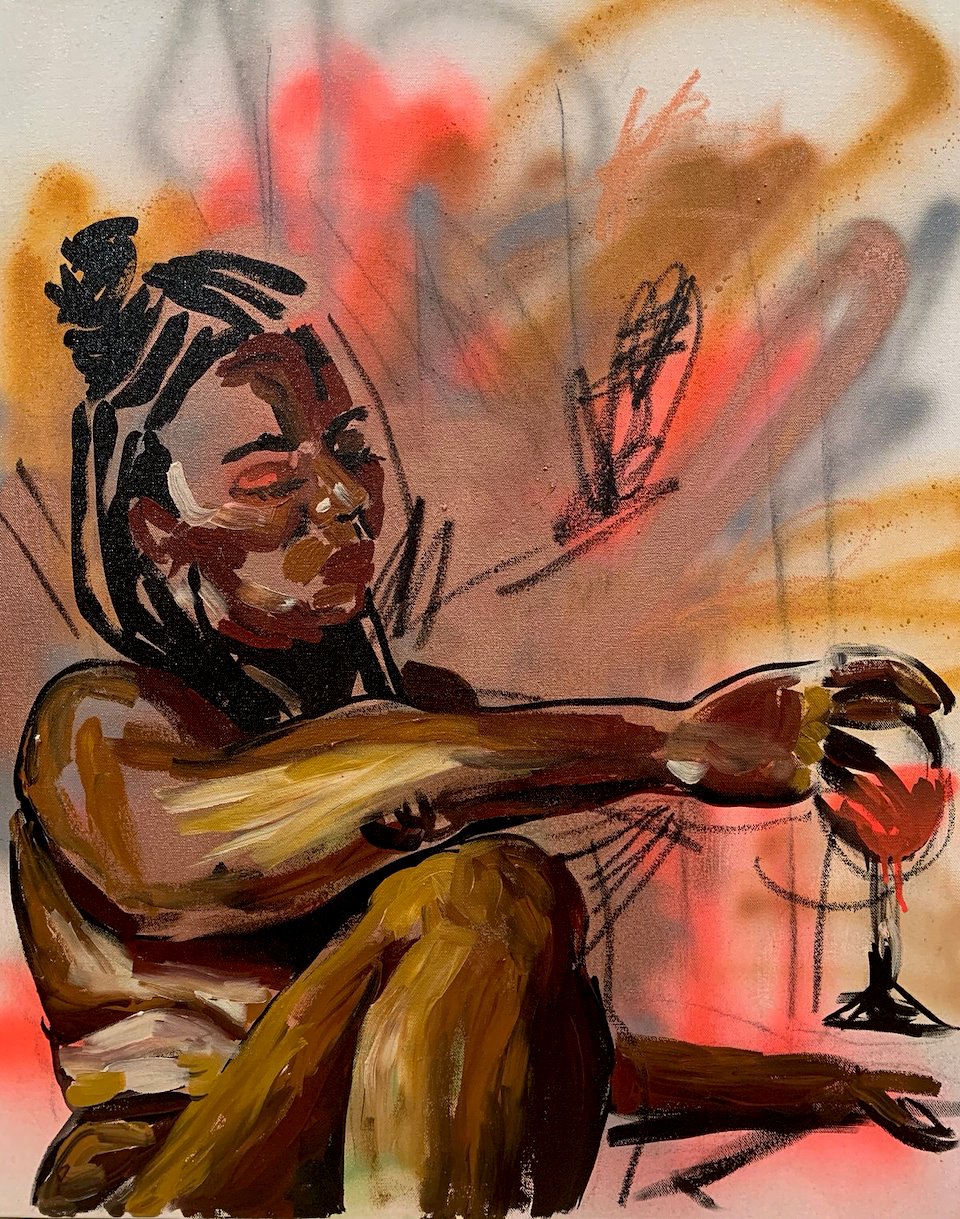 Fernanda Justino
Spray and acrylic on canvas 24" X 30", 2019.
I randomly starts following people in instagram and I just sow in my timeline Fernanda's incredible nude that's inspire me to see myself in a beautiful way. Fernanda has a similar body of mine and she feels wonderful, and I feel too. But in the last days I was so insecure because I am getting fat and relating this with the fact that the boy I like do not want to date me, and it remembered me that there is nothing together between fat and beauty, the only thing that put it together is the gordofobia of society and the beauty patterns that make women as slaves. That moment I remember that the problem is not with me. It with other, because my mirror says to me that I am super nicer as Fernanda looks in that picture.
No More dates with people that do not see our beauty.
No More Gordofobia.
No More beauty patterns.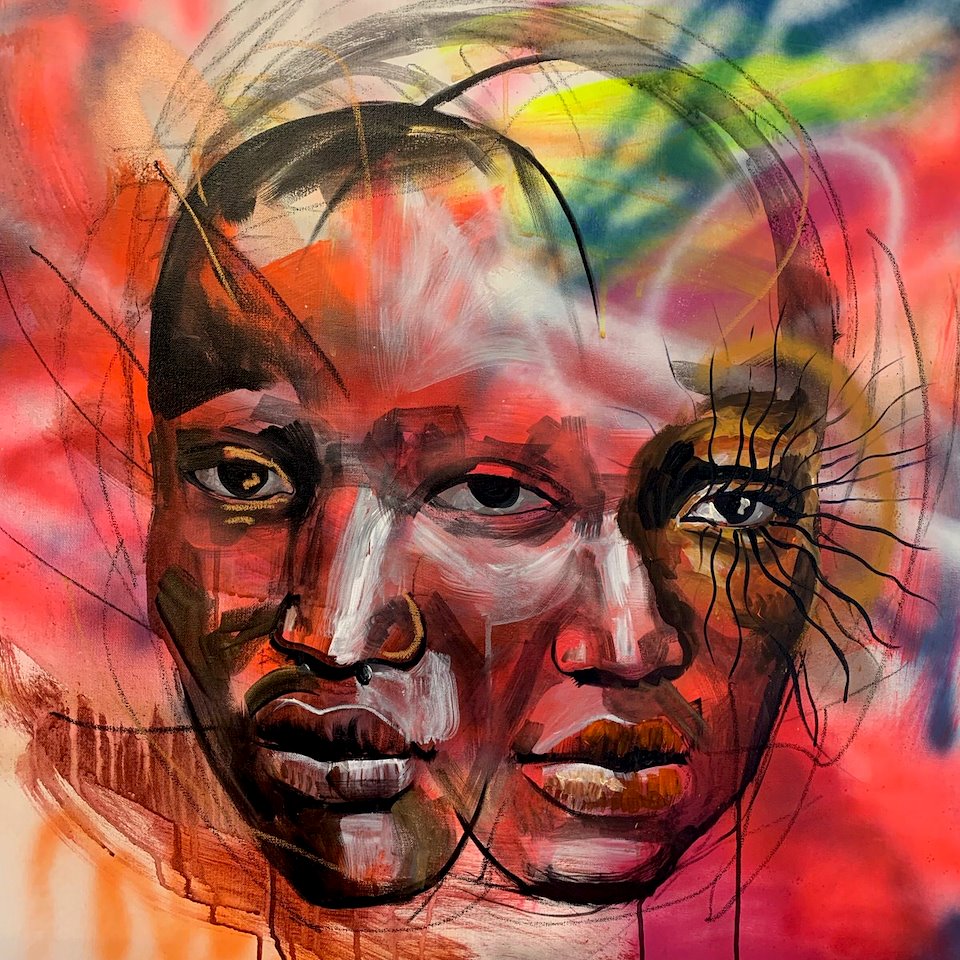 Untitled
Spray and acrylic on canvas 30" X 30", 2019.
You can build whatever you want from this image. Exactly: this is about freedom.
For No More Stereotypes.
Uterus
Spray and acrylic on canvas 20" X 20", 2019.
The Brazilian Senate voted a law to change our Constitution about life begins at conception. I like to represent my uterus as something beautiful and full of life, to remember the autonomy that I must fight every day so that only love comes.
No More people deciding about my body.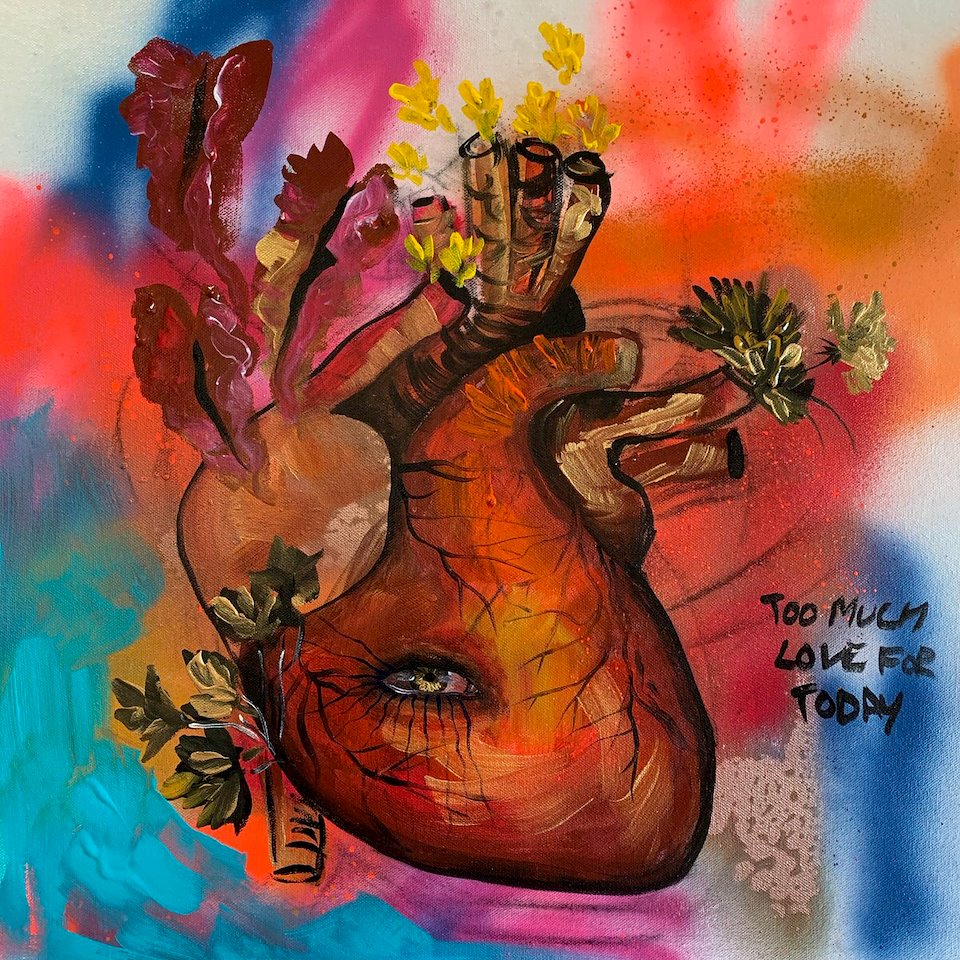 Too Much Love for Today
Spray and acrylic on canvas 20" X 20", 2019.
I was in love with a man that broke my heart and made me feel pure melancholy. Even know this is not work for me now, is good to know how wonderful is to love. In Brazil there is a research that show that black women are the more loneliness than others because they are out of main stereotype of beauty and are always deferred by other women. Even black man, can prefer the white as they can see this women as a trophy to get status in the society. The result is a kind of compulsory celibacy.
For No More Black lives without love.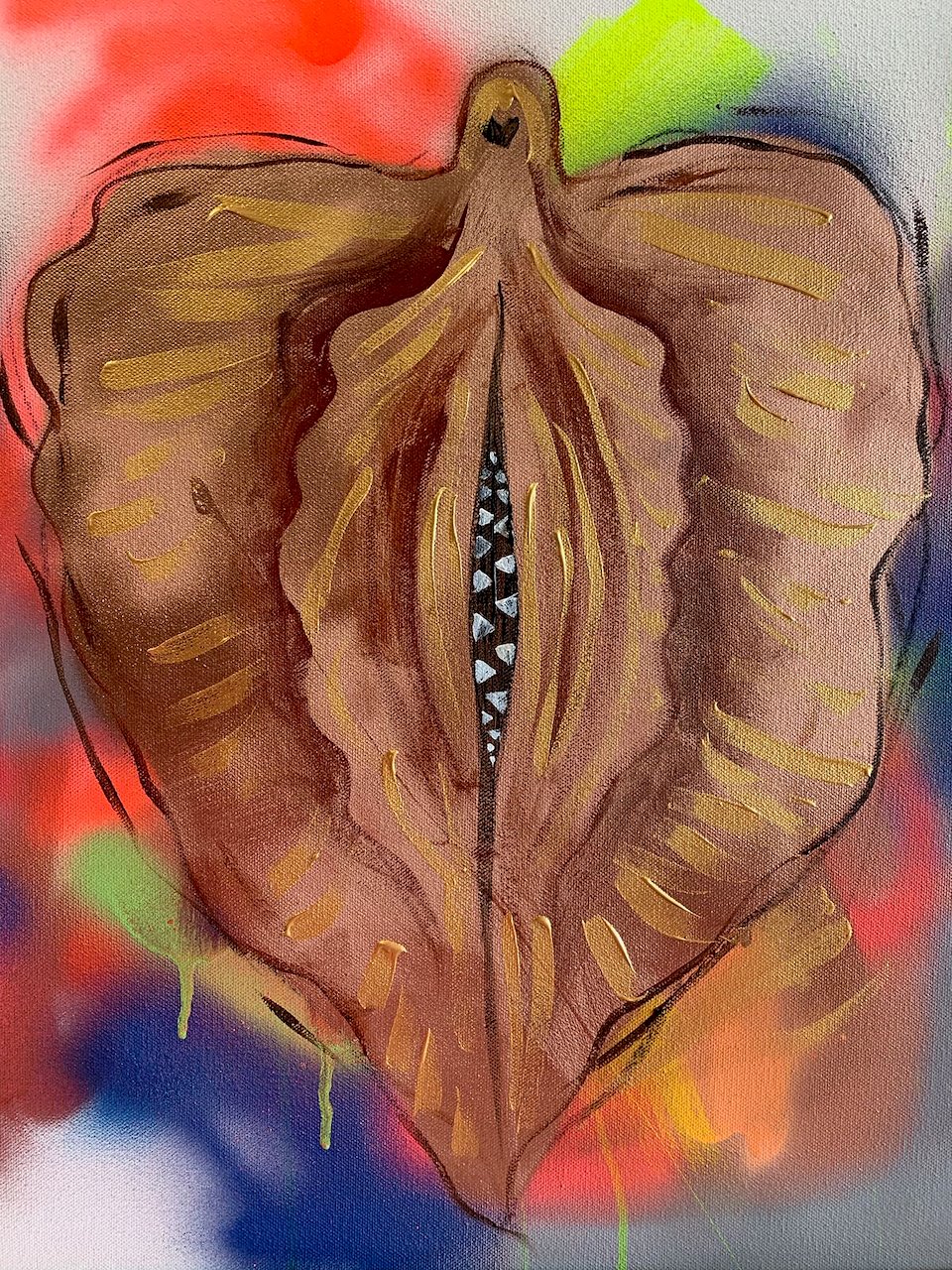 Flower
Spray and acrylic on canvas 16" X 20", 2019.
I research ocidental myths that proposed a dangerous and unreliable woman, because transgression of patriarchal norms that is inside of this stories are a point of my work. Having the Second Sex of Simone de Beauvoir as the start, I got in the Vagina Dentada tale thats talks about a phallus castration at the moment of the coitus. In this series the vulva is represented as flower influenced by Georgia O'keeffe paints.
No More histories to put women as not trustworthy.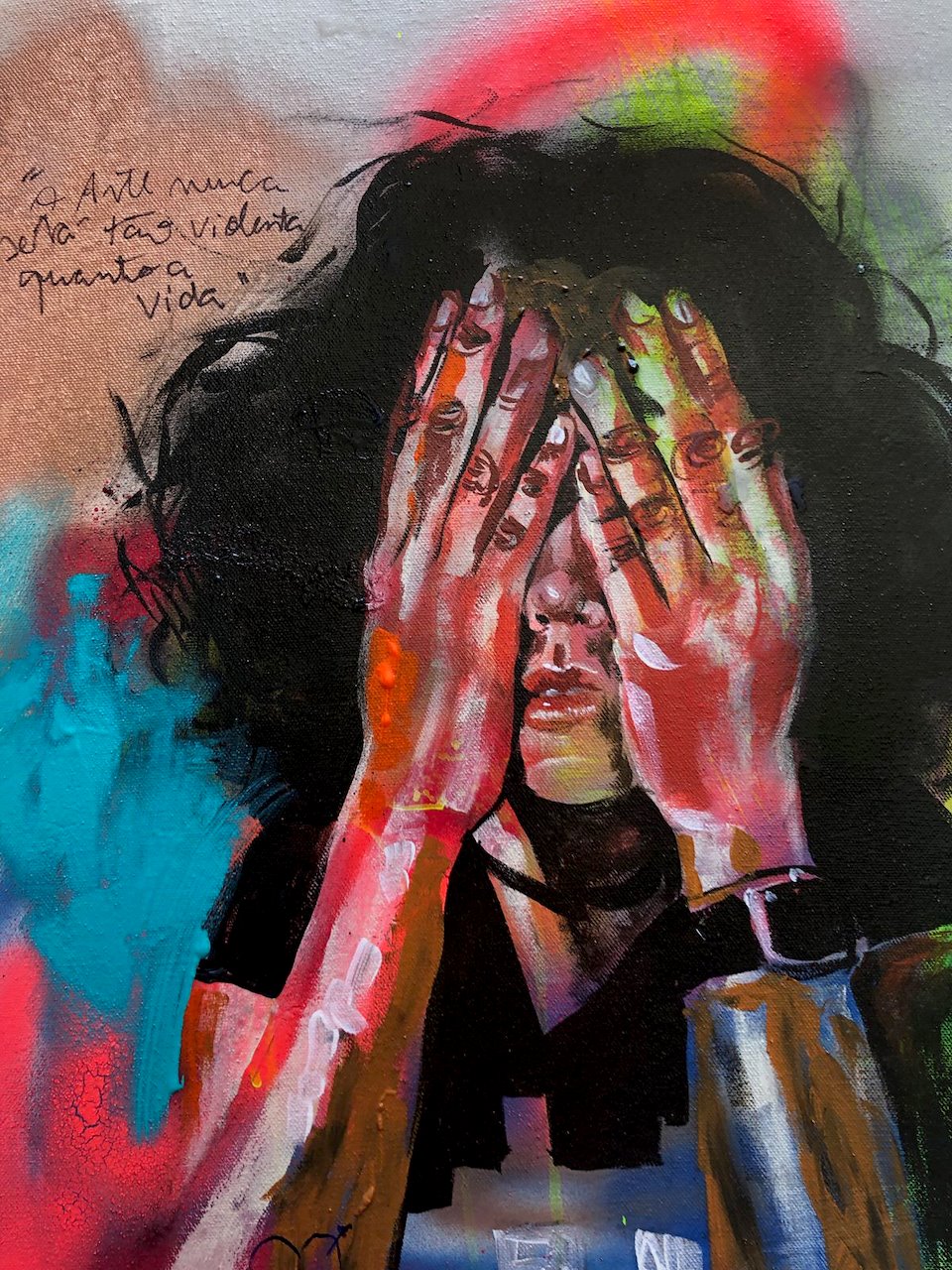 The arts never will be so violent as the life
Spray and acrylic on canvas 16" x 20", 2019.
I do in my performances the experiences I had in life. Sometimes people get scared and says that it is too violent, and I say no, that it is just art, and art will never be so violent as the pain of life.
For No More violence in life, just in art.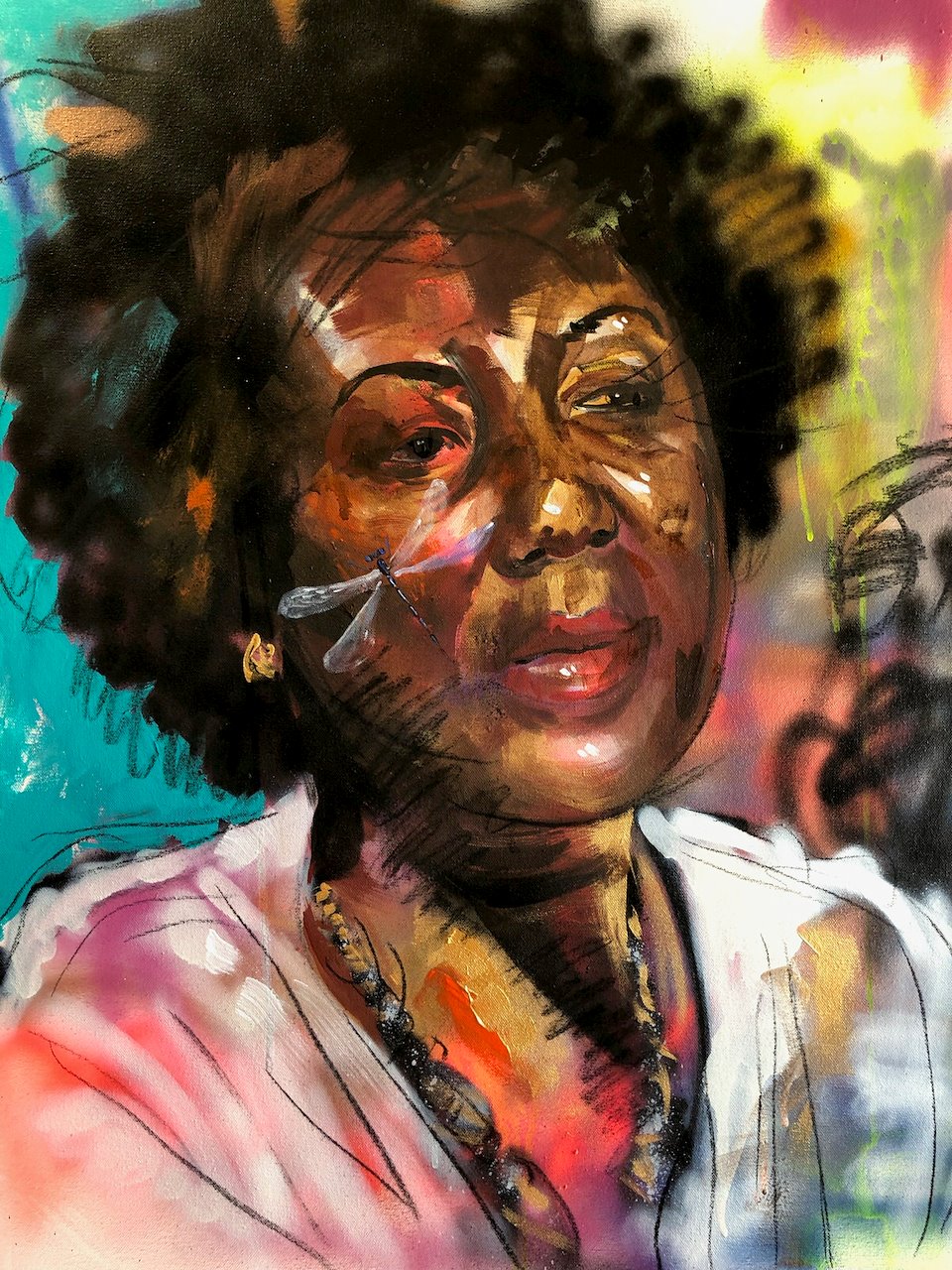 Rosana Paulino Portrait
Spray and acrylic on canvas 24" x 30", 2019.
Last month I met Rosana Paulino. She is a so powerful visual artist and women with a large career that just now is recognized by the Brazilian art institutions. In my perception, as a black women, Paulino was marginalized for decades. Let's look the art of black women and give them the attention they deserve.
For No More museums where the black culture and people do not have representation.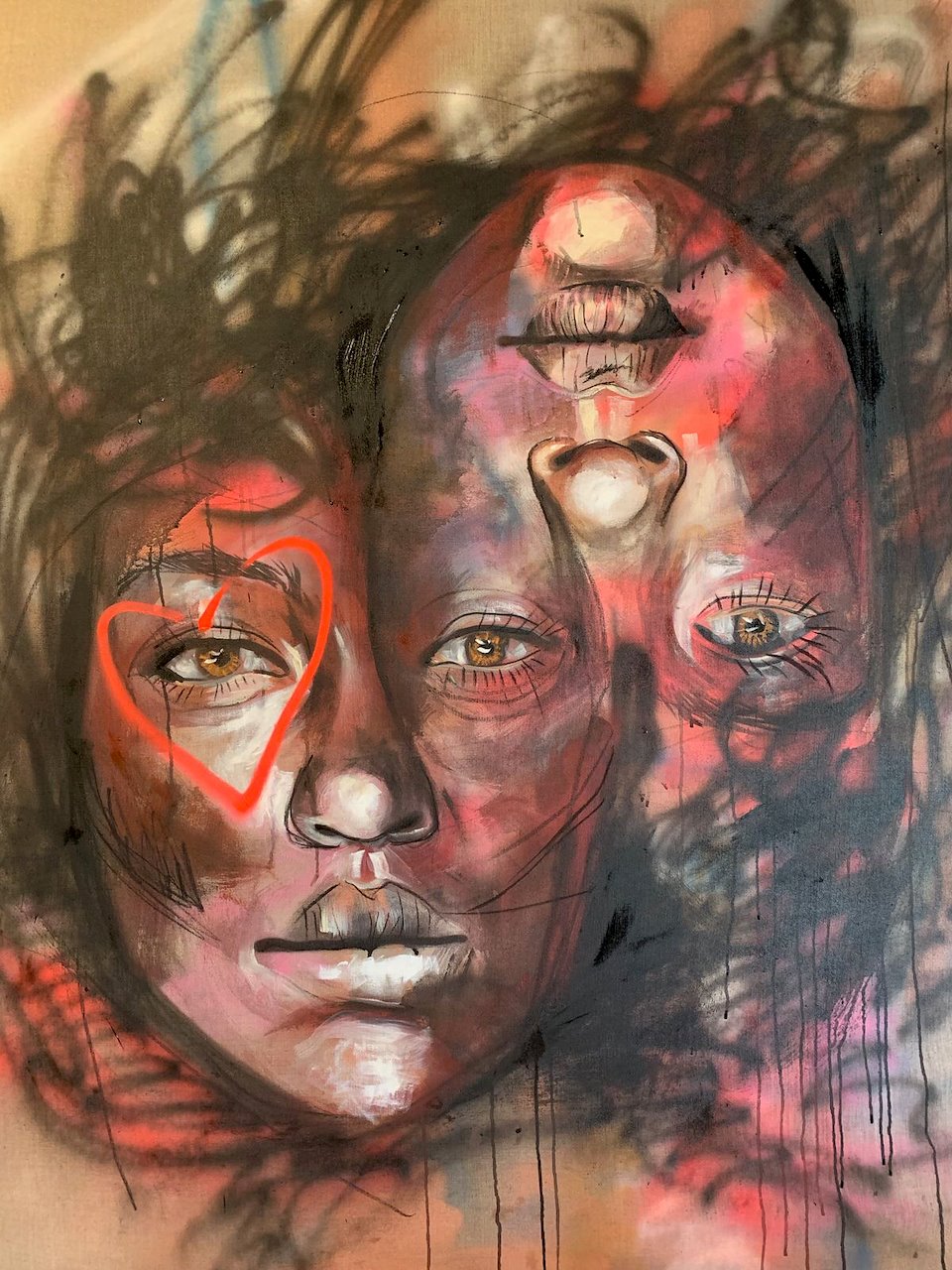 Dororidade
Spray and acrylic on canvas 55" X 67", 2019.
The black female writer Vilma Piedade, in 2017 wrote the term Dororidade that was about the political support between women making them stronger from the pain that is suffered by machism and racism.
For No More machism and racism in our society.